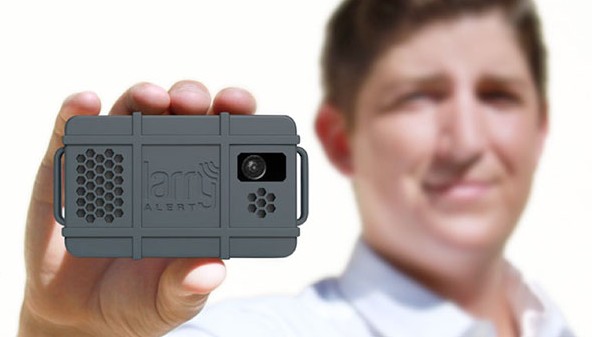 We've reviewed a dozen or more wireless cameras that can be used as a home security system. They are usually setup to send alerts to mobile devices when detecting motion or sound. These simple systems are a viable alternative to higher priced systems that require a hefty monthly fee and significantly more complex installation. They work fine for home use, but what about a security system for on the go outdoor use? The LarryAlert has been designed as a portable security device that features a weather-resistant housing that's great for campers, beach use, and more. This system creates an invisible shield around your stuff and sounds a siren alarm and plays a recorded warning or greeting if the shield is broken. The device also snaps images that are sent to your phone. The LarryAlert is priced at $149.00 and is currently available for pre-order, with shipping due in April. Visit LarryAlert.com for more info.
Filed in categories: Home and Kitchen, News, Outdoor Gear
Tagged: Security
LarryAlert is a portable security device originally appeared on The Gadgeteer on March 20, 2016 at 5:16 pm.
Note: If you are subscribed to this feed through FeedBurner, please switch to our native feed URL http://the-gadgeteer.com/feed/ in order to ensure continuous delivery.
- Sharing is Caring -